Estate Grown Pinot Noir
Appellation: Sonoma County – Russian River Valley
Tasting Notes
Heavenly aromas of dark cherry fruit greet the nose. Integrated flavors of ripe berries and warm spice tones fill the mouth and lead to a smooth full bodied finish. This elegant wine with concentrated fruit will continue to mature and become more complex. Delicious paired with salmon, pork, and chicken.
Vineyard Character
This two acre O'Connell Vineyard™ parcel is 100% Pommard clone on 104-14 rootstock. The gravelly Gold Ridge loam is the distinguishing characteristic of the Vine Hill region that produces the most outstanding Pinot Noir in the world. The vines are trained to double cordons with 15 to 17 clusters per cordon yielding 3.00 to 3.25 tons per acre. The cool growing conditions with foggy mornings and ample warm sunshine contribute to the complexity of the fruit and the incomparable finish.
Winemaking
100% Pinot Noir grapes carefully hand picked in the cool, crisp mornings of late September to early October; the grapes are hand-sorted and de-stemmed, then cold soaked prior to pressing and fermentation; Sur lie aged with weekly stirrings; barrel-aged ten months in French oak. Our Pinot Noir is crafted entirely from the Pommard clone. Harvest Date: September 12, 2016
Awards
Our 2016 O'Connell Vineyards Estate Grown Pinot Noir was awarded 96 points (Platinum) and named Best Pinot Noir at the 2018 Monterey International Wine Competition. Here is what the judges had to say: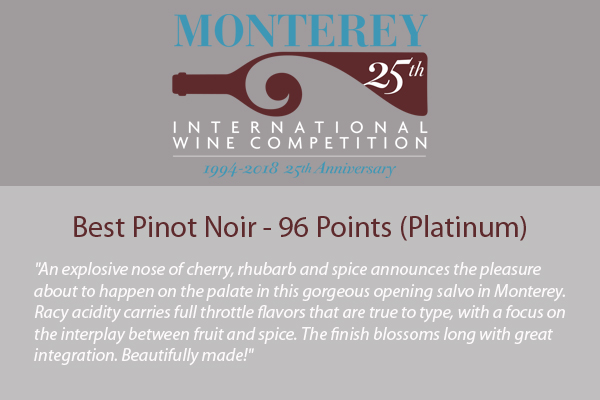 We are also excited to announce that our 2016 O'Connell Vineyards Estate Grown Pinot Noir was awarded 90 points by both Wine Spectator and Wine Enthusiast:


Our 2014 vintage was the winner of the 2016 Pinot Cup at Charlie Palmer's Pigs & Pinot!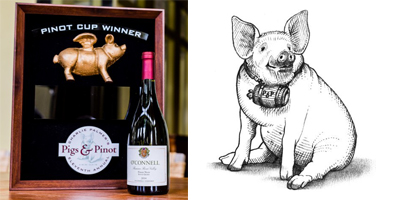 Russian River Valley Chardonnay
Appellation: Sonoma County – Russian River Valley
Tasting Notes
Our 2016 Russian River Valley Chardonnay tastes of citrus and apricot along with a subtle oak influence. Well structured, the mouth feel is rich and the finish is crisp, yet long and fresh. This wine is both bright and full of depth.
Vineyard Character
The Pratt Vineyard is a Chardonnay Clone blend (Clone 02 – 36.6%; Clone 95 – 32.2%; Clone 77 – 17.8% (musc); Clone 277 – 14.4%)
Winemaking
100% Chardonnay grapes were handpicked on September 10, 2016. The grapes were then hand-sorted, gently pressed on the skins, barrel fermented, and aged sur lie for 11 months in French oak barrels (30% new).